Russ Childers is available for programs on Appalachian traditions, from one-hour presentations to two or three-week residencies which may include storytelling, music and songs with traditional instruments, or basic techniques in mountain-style squaredancing.
Email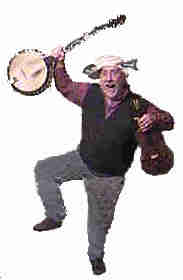 To contact Russ Childers for your school, library, or festival needs, send an e-mail request to russchilders1@gmail.com!
Visit us on Facebook!
Mail
If you would rather write for a brochure or other information, please contact:
Russ Childers
1555 Old State Route 74
Batavia, Ohio 45103
Telephone
Or you may call: 513-732-2015
Webmaster
If you find any errors, please contact Russ Childers
Credits